Dinner
Authentic Italian Menu
La Nostra Casa e la Vostra Casa!
From Our Home…To Yours!
Dolce Italia has received many awards and recognition over the years but we are humbled in our pursuit to bring people together with authentic Italian food and wine.
Daily Specials Are Available!
Our Favorites
Dolce Italia Signatures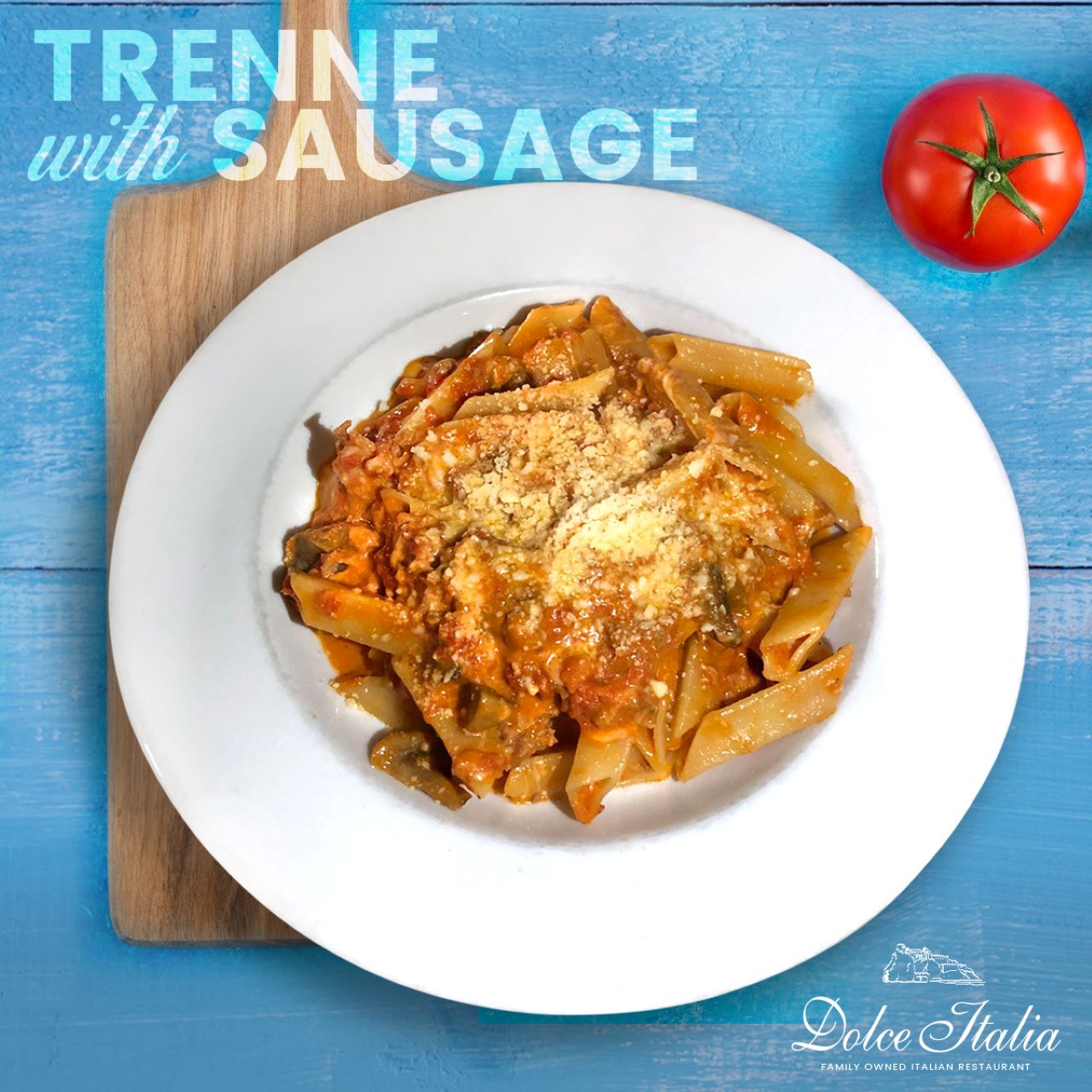 Trenne Dolce Italia
Homemade triangular shaped pasta with creamy tomato sauce, mozzarella, mushrooms, and parmigiano.
Linquine Seafood
Shrimp, mussels, clams, calamari, and diced grouper sauteed with tomato, white wine, olive oil, garlic, crushed red pepper and served over linquine.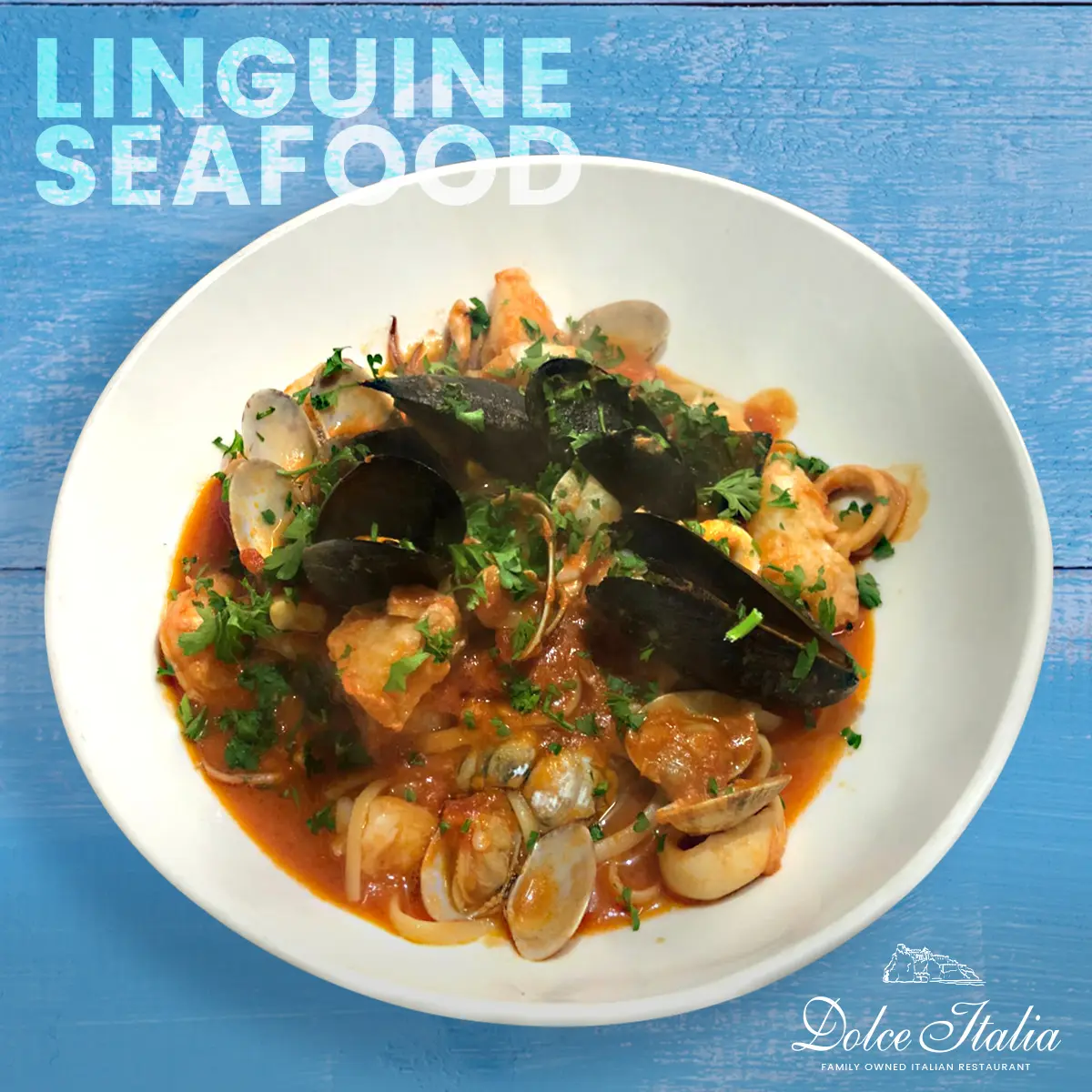 Torte Al Limoncello / 10
Layers of lemon cake & mascarpone cheese buttercream doused with limoncello liqueur
Tiramisu Al Caffe / 10
Espresso soaked ladyfingers layered
Tiramisu Alla Mandorla / 10
Almond liqueur soaked ladyfingers layers of mascarpone custard topped with chopped almonds
Cannoli / 10
Crisp cannoli shell filled with sweet ricotta an chocolate chips
Affogato Al Caffè / 10
Vanilla gelato topped with a shot of hot espresso
Cioccolate Vesuvio / 10
Hot Lava cake opposite cookie crumble atop vanilla gelato
Gelato Nutella / 10
Vanilla gelato under chocolate hazelnut Nutella and whipped cream
Pistachio Tartufo / 10
Pistachio gelato with chocolate and Graham cracker shell

Appassimento – 13/49
Collefrisco – Abruzzo – 60% Montepulciano/20% Sangiovese/20% Merlot
Montepulciano d'Abruzzo – 10/39

Sabbiano – Abruzzo
Cabernet – 10/39
Diego Late Harvest – Veneto           
Merlot – 10/39
Eterna – Lazio
Sangiovese – 10/39
Teanum – Puglia
Ripasso Valpolicella – 13/49
Fratelli Vogadori – Veneto
Supertuscan – 10/39
Valle Segreta – Toscana – 60% Sangiovese/20% Syrah/20% Cabernet
Pinot Nero – 10/39
Casteggio – Lombardia
Chianti – 10/39
Cerevelli – Toscana
Chianti Classico – 13/49
Orsumella – Toscana
Primitivo – 11/45
Teanum – Puglia

Chardonnay – 9/
Augustus – Lazio
Pinot Grigio – 9/
Augustus – Lazio
Vermentino – 12/49
Perla – Sardinia
Sauvignon Blanc – 10/39
Laguna – Trevenzie
Viognier – 11/42
Sensazioni – Piemonte
Chardonnay –  /35
Teanum – Puglia
Pinot Grigio –  /35
Casalforte – Veneto
Chardonnay –  /59
Bougetz Cellars – Sonoma
Sauvignon Blanc –  /45
Va Piano – Washington

Prosecco –  /45
Zucchetto – Valdobbiadene
Rose Prosecco –  /45
Zucchetto – Treviso
Split Prosecco – 9/
Volare – Veneto
Moscato – 10/39
Della Luna – Friuli – Venezia Giulia

Chianti Classico Riserva – 59
Orsumella – Toscana
Montepulciano Riserva – 49
Trinita – Abruzzo
Barolo Prapò – 115
Schiavenza – Piemonte
Brunello Di Montalcino – 100
Eremus – Toscana
Amarone Della Valpolicella – 89
Casalforte – Veneto
Cabernet Sauvignon – 69
Bougetz Cellars – Napa Valley
Cabernet Sauvignon Reserve – 175
Prominence – Napa Valley
Syrah – 45
Bracci Forti – Sicilia
Nero d'Avola – 49
Mothia – Sicilia
Malbec – 45
Caligiore – Argentina
Pinot Noir – 49
Lady Hill – Oregon
Pinot Noir Riserva – 59
Sweet Cheeks – Oregon